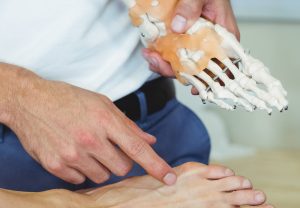 During your first appointment your symptoms will be reviewed by combining in-depth questions with a comprehensive physical assessment. In the comfort of our private rooms, we take time to listen to you, ask how the problem started, what symptoms you are experiencing, and if anything makes them better or worse. This thorough assessment allows us to fully understand your problem, making it easier to determine the most effective treatment plan.
We appreciate how important it is to you that you understand the cause of your symptoms and the purpose of treatments that we propose. Therefore we will take care to discuss each step with you and explain our discoveries and recommendations in understandable terms. We may even use models or other visual aids to help you visualise what is happening beneath the surface. This approach is adopted throughout all subsequent treatment sessions too.
Physiotherapy is not the solution for everyone but if we believe you will benefit from treatment we will carefully explain our recommended techniques, how many sessions you might need and what you can do at home to improve the speed and success of your recovery.
If further medical investigation is appropriate you will be advised accordingly. Our aim is to get you back to your usual self as quickly as possible, so you tell all your friends and family about us.
Appointment rates
Initial appointment: £60
Typical follow-up rate: £50
Appointment duration
Your comfort and satisfaction is of the utmost importance to us. Therefore, we adopt an 'as long as it takes' approach to all of our sessions. We know your time is valuable too, so we'll move things along as efficiently as possible. Appointments typically take an hour.